When you're looking for agricultural packaging solutions, you're probably considering numerous options from different brands to different materials and packaging styles. One option is to look for woven polypropylene bulk bags, which are quickly becoming the industry standard for packaging of all kinds, from feed to seed, grain to produce. Furthermore, you can opt to have your bulk bags custom printed with your brand name, logo, or any other information you desire – a strategy that can do wonders for your business brand and promotion strategy, as well as customer loyalty and retention. Here are five advantages of custom printed woven polypropylene bulk bags. Keep these in mind as you consider your options.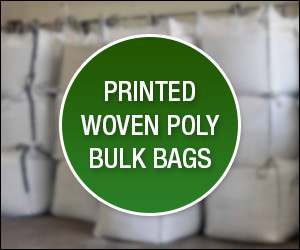 1. Durability
If you're looking for bulk bags that will last, weathering heavy contents as well as transport and distribution, this is it. Woven polypropylene bulk bags are structured to support whatever is placed within them, which means that you can rest assured knowing that no rips or tears will befall your product's packaging. Plus, you can select from almost any custom size to find the perfect option to fit your product and your needs. Long periods of storage will not wear down this durable material, which is extremely resistant to stress, temperature, most alkali and acid, organic solvents, degreasing agents and electrolytic attack.
2. Branding
The elusive concept of "branding" is all-important for any business, no matter how large or small. Simply put, branding is the process of creating an image for your business, or a way that your customers (and potential customers) perceive you. Building a brand involves not just the graphic elements, such as a logo and color scheme, but also the most subliminal aspects such as your overall message, mission, and business model. When your customers think of your business, they will have a certain image of you in mind, and it is this image that you want to be able to influence in the shape that you want it to take.
Branding is important because a business with a better brand attracts more customers, and is better able to retain the customers that it has. When you can immediately bring to mind positive qualities such as reliability, efficiency, and quality just by showing your brand's logo, your customers will immediately go to you instead of searching out alternative options from your competitors. As a result, the custom printing option for woven polypropylene bulk bags is exactly what your business needs to build its brand. Inscribe your name, logo, slogan, or any other graphic that you know will help represent your business for your customers and build in their minds a positive image of your brand identity.
3. Promotion
Although it may seem obvious, few people realize exactly how much of an impact a custom printed package has on product promotion. When your customers purchase your product, you can be assured that others in the industry will see the package as well. Showing your name, logo, or other details on your bulk bags serve as a great promotion technique, raising awareness of your brand name and attracting more customers without spending a cent on
actual advertising.
4. Economy
Since polypropylene is so easy and quick to produce, it is an extremely affordable material. This means that you won't have to spend so much of your budget on packaging, and instead, can allocate more money towards other aspects of your business. Ultimately, saving money is good both for your profits and for the impact that you can have on the areas you channel the extra money into, from marketing to product quality to production.
5. Versatility
With custom printed woven polypropylene bulk bags, you have a number of options to choose from to find the packaging that is right for you. For example, you can start with the standard woven poly bulk bag, which is flexible in both size and number – that means that you can order as many as you need for the agricultural products you are shipping, and also vary the sizes of the bags depending upon the quantity in each bulk package. Furthermore, you can choose from a number of different fabric colors and printing options depending upon your business' design elements, the nature of the goods you are shipping, and the audience that you want to reach.
Ultimately, these decisions are all in your hands rather than set in a predetermined sequence, allowing you and your business to enjoy the versatility of these bags for your agricultural and farming needs.
Thank you for reading our blog! How can we help you? Contact us today.