Agricultural packaging is essential to the food industry. Packaging prevents food from being spoiled or ruined by pests or toxins from packages. In a health conscious world demanding to know where our food comes from, the packaging is crucial. Some packages may not hold up very well, and may become susceptible to pests or the external elements such as wet weather. For these reasons, bulk bags are one of the most affordable and effective ways to store and transport dry goods and produce. Consider the packaging best used for agricultural bulk shipping.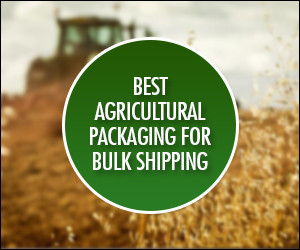 The Importance of Agricultural Packaging
In the United States, there are over three million people farming and/or ranching. Many agricultural products, particularly dry goods and certain produce, are transported in bulk bags. Fresh products should be delivered to preserve the quality and integrity of the food. The freshness and taste are essential to selling excellent produce.
Eliminate Unnecessary Waste
About half of the food is wasted during the production process. Post-harvest treatment procedures and lack of storage or inadequate transportation also contribute to waste. The importance of agricultural packaging preserves as much food as possible. Excellent packaging can ensure short and long-term stability between farmers and the public.
Produce and Packaging
Produce should pair well with the type of packaging used. It helps the quality crop yields, especially for fresh produce. Different foods require different types of packaging. There are primary concerns that need to meet packaging standards. Ventilation is crucial to the packaging. Heat should be able to escape, and the produce should be able to cool quickly. Produce water loss should be minimized. It will help the produce stay fresh. When the produce spoils, it can become costly for the agricultural industry.
Safety Matters
The packaging should be safe to handle. Injuries should not occur from the packaging. It should be safe to transport and easy to handle. Bulk bags hold up to thousands of pounds of dry goods. The bulk bags are moved by machinery through the use of loops. These loops can be placed in certain locations for ease of operation. Bulk bags can be customized to meet the needs of all types of customers and shipments.
Special Packaging Is Often Required
Different products require different types of packaging. There should be a separate package for every single type of produce. There are several different types of packaging available. Case and carton, flexible packaging, and retail ready packaging are available. The packaging used for bulk shipments is a great concern as this is where the largest losses can occur. It must be durable, reliable, and suitable for the products being transported. For this reason, flexible intermediate bulk containers (FIBCs) are usually the containers of choice when companies are handling dry, flow-able goods such beans, rice, and more.
Improving the Shipment Processes
Packing that improves the shipment process is crucial. Packaging should be cost-effective as well and develop key branding. Bulk bags can be specially developed to accommodate the unique needs of each type of product being transported. For example, customized printing can be added to woven polypropylene bulk bags to help brand the business. This may include the company's name, logo and/or slogan. The woven poly bulk bags can also be printed with the contents contained within to help keep regional, national, and international shipments well-organized.
Working With a Professional
Choosing the right packaging for your agricultural business' needs can be a challenge. Measurements need to be taken. The types of products being transported and stored must be carefully considered. Wholesale bulk bags come in various sizes and materials. Work with a professional to determine which super sacks and configurations are ideal for your purposes. Western Packaging takes pride in helping its agricultural customers find the perfect solutions for their agricultural packaging needs.
Thank you for reading our blog! How can we help you? Contact us today.