Modern agriculture and farming techniques have evolved rapidly during the last few decades. Improvements have been made and are constantly being updated, in all facets of the agriculture industry. With the advent of more effective weed control, fertilizer, seeds, techniques, and strategies, agriculture has become a more streamlined, less wasteful enterprise. This includes the savvy use of bulk bags, also referred to as flexible intermediate bulk containers.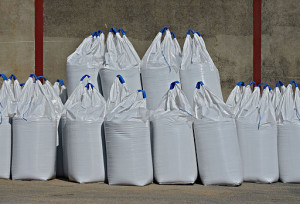 Bulk Bags are Designed to Fit Your Requirements
Waste and spillage have always had a negative effect on a farmer's bottom line, but with advancing petrochemical (polypropylene) technology, more efficient methods of storage, transportation, and disposal, flexible Intermediate bulk containers (FIBC's) have become an important part of today's agriculture industry. Here are some of the many ways that bulk bags can improve the bottom line for today's agriculture professional.
Multiple Sizes Available
There are different sizes and load parameters available when considering a flexible intermediate bulk container. Normally, bulk bags will have a width between 45 and 48 inches which enables them to be loaded side-by-side in a standard 96-inch wide semi-trailer. With many different sizes available, agricultural professionals can maximize their storage or transportation requirements.
Tremendous Weight to Load Ratio
Since they are considered "intermediate," bulk bags are designed for loads of up to 5000 pounds. Bulk bags weigh between 5 – 7 lbs. per unit. Therefore, the amount of product which can be transported is increased significantly when compared to other storage products. This enables the transportation or storage of large amounts of material within a fairly small area, a factor which is crucial when considering your bottom line.
Multi-Use Bags
Most super sack variants are multiple-use designs. The 5:1 ratio bags are single-use bags and are capable of holding between 500 – 4000 pounds of product. Six to one ratio bags and UN approved 6:1 bags can be used multiple times.
Product Protection
Bag liners are available to add moisture protection when storing your product. They can be sewn into the fabric seams for permanent protection. Bulk bags with a bottom discharge can employ a liner which is "tabbed" into all eight corners of the container. Tabbing prevents the bag from slipping during discharge. Bag liners are constructed of polyethylene.
Sack Designs to Suit Your Needs
Different materials require different methods of loading or unloading a super sack. There are standard bag designs. However, if the need arises, bulk bags can also be customized them to suit a customer's needs. Bulk bags (FIBC's) come in a duffle top, open top, or spout top. Spouts can be customized to fit the particular filling apparatus. Bag bottoms are available in a number of different styles. For a faster unload, conical bottom bags are available. Bulk bags are also available in closed bottom, diaper bottom, or fully open configurations.
Additional Customization
In addition to specifically designed bag bottoms, the lift loops can be tailored for forklift or crane lifting. Loops can be configured in a "corners," "cross corners," or "Stevedore" manner. Bulk bags can also be personalized by requesting custom logo printing or bag colors.
Bulk Bags Have Many Uses for Your Agricultural Needs
With the versatility of bulk bags in mind, there are ways FIBC's can be used by agricultural businesses to help control the bottom line.
Transportation and Storage of Fertilizer
Without a doubt, any agricultural venture would be greatly hampered without fertilizer. FIBC's protect the fertilizer as it is transported, ensuring that it will be effective when needed. The right fertilizer, stored in the proper manner is a must for a successful business. Bulk bags can store, protect, and transport fertilizer, and are of great utility in the distribution of this precious commodity. Whether an agricultural business uses organic or inorganic fertilizer, bulk bags are the safest, most economical way to protect this investment.
Transportation and Storage of Seed
Right behind fertilizer in agricultural importance is seed. Without seeds, there is no crop to harvest. The seed can be adversely affected by so many factors including moisture, rodents, birds, and time. Proper storage is a must. When used in a cool, dry, environment, bulk bags will protect the seed for up to a year against adverse conditions and pests.
Crop Storage and Transportation
Harvesting ultimately requires storage and transportation of the crops. Bulk bags can help businesses to get the most profit from their efforts. They are the most efficient, affordable, convenient, and cost-effective manner for transporting crops to their end destination.
A damaged product is a useless product. Super sack bulk containers will help protect harvested crops, even if storage is required until it is time for transportation. Businesses can count on a healthy, profitable harvest.
Thank you for reading our blog. How can we help you? Contact us today.