The growth of the world's population demands food shipments travel farther. In fact, 25 percent of U.S. farm products (by value) are exported annually. By 2050, the world's population is projected to reach 9.7 billion people and calls for the production of 70 percent more food than growers currently produce. Bulk packaging materials meet these demands.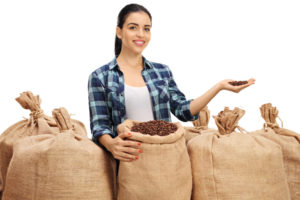 In addition, a large percentage of grower income goes toward production, processing, transportation, distribution and marketing costs. Bulk packaging features help lower these costs. Bulk bags and containers also protect the integrity of agricultural products and the earth which sustains them. In sum, bulk materials benefit agricultural businesses in the short and long hauls.
The Benefits of Bulk Packaging
Loss of product due to waste or contamination, ineffective or defective packaging materials and worker injury cost growers. (Visit this graph for a rundown on losses paid by crop insurers to growers.) Fortunately, bulk packaging addresses these issues and more with a viable, value-laden solution. Consider out these five benefits of bulk packaging for agricultural businesses.
1. Keep Products Dry and Pest Free
Bulk packaging materials made of polypropylene resist water and protect contents from moisture. This packaging feature also prevents mold and mildew growth. In addition to moisture control, odors are not passed between bags when transported or stored close to each other. The result? Quality products delivered to the consumer.
Furthermore, bulk polypropylene bags keep pests from invading and damaging agricultural products. Insects, vermin and other pests lead to product loss and decreased profits. BOPP bags and other such bulk packaging prevents infestation and mitigates these losses for growers.
2. Offer Durability and Flexibility
Strength and durability over time prove important features of bulk packaging. Long distance transport requires innovative bulk packaging materials which go the distance. Also, the need for storage is answered with bulk bags, which offer ideal storage containers. Tear-resistant materials keep products and other agricultural industry items from spilling or otherwise being damaged.
Bulk packaging materials come in sizes and shapes to fit many agricultural product needs. Crops, seeds, fertilizers and other products ship and store well within the safe protection of bulk packaging. Plus, the ability to print clearly on BOPP bags and other bulk packaging options clearly identifies your agricultural products in storage and transport, with no weakening of the bag's strength.
3. Promise Eco-Friendly Protection
Wheat, barley, nuts and delicate vegetables find protection in bulk bags and containers along with other agricultural crops. Bulk packaging options prevent products from being marred or crushed while travelling from farm to table. And, the good news? They do so with minimal cost to the environment.
Eco-friendliness calls for bags which require no harvesting of trees and produce little waste in their production. Products made from recycled or sustainable materials further answer the call. And, the option to reuse or recycle bulk packaging as well as their durability extends their environmental friendliness. Protecting the land, even in terms of packaging, ensures it provides crops for growers in the years to come.
4. Improve Worker Safety
Shipping and storage of large quantities, bulk quantities of product put workers at risk. Lifting large drums and bags strains more than backs, particularly if something goes wrong. Farm accidents result in temporary or permanent loss of work capabilities. Repetitive hard labor causes injury and chronic pain. Unhealthy practices negatively impact workers as well as farm productivity.
Durable bulk bags with handle and loop options delegate the lifting and moving to forklifts, hoists, pallet jacks and other mechanical equipment. Standard bulk packaging allows for the automation of production and transport processes, which permits control from a safe distance. These helps remove some of the strain and risk from workers. Plus, less labor intensive processes yield fewer costly accidents. \
5. Weigh Cost With Value
Polypropylene and other such materials keep bulk packaging production costs low. Their durability and reuse potential extends the life and use of these bags. The ease of filling processes due to bulk packaging features saves time, energy and workforce resources while reducing waste. And, the ability to handle heavy weight products, even sand and gravel, while maintaining material integrity benefits growers.
Each of these factors raises the value of bulk packaging. With a lower cost, longer life, efficient filling potential and greater reliability than other packaging options, bulk packaging stretches the grower's dollar and in turn, helps lower product costs. Plus, less spillage and spoilage result in less waste during filling, transport and storage — a boost to any grower's bottom line.
The Result: A Quality Product Farm to Table
Bulk packaging options answer the demands of the agricultural industry and a growing, hungry population. A durable, eco-friendly storage and transport option which reduces waste and cost while increasing value is found in bulk bags, BOPP bags and woven polypropylene bags. Both the grower and the consumer benefit with the delivery of a quality, fresh product.
Thank you for reading our blog! How can we help you? Contact us today.