Industries involved with shipping materials are always concerned with finding the best and most cost-effective ways to get their goods from origin to destination. A bulk bag is a great shipping container for companies that need to distribute dry, flow-able goods. Discover the history of bulk bags and how they are used today.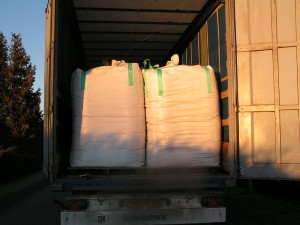 What is a bulk bag?
Flexible intermediate bulk containers (FIBCs), commonly known as bulk bags, are intermediate bulk containers that have bodies made of flexible fabric that must meet the following parameters:
– They cannot be handled manually when they are filled
– They are intended for shipment of solid material in powder, flake, or material form
– They do not require additional handling
– They are designed to be lifted from the top using integral, permanently attached devices (loops or straps)
The beginning uses of bulk bags
FIBCs have been in use for decades. The exact date of their first use is unclear, but it occurred somewhere between the late 1950s and early 1960s. These bags were mostly used in the United States, Europe, and Japan.
Construction
The original bulk bags were made from heavy-duty PVC-coated nylon or polyester. The cut sheets were welded together to create the bags. These bags also had lift swings that were integrated into the container or attached to a special pallet. The swing made it easier to load the bag from the top and empty it from the bottom.
Growth in the '70s
In Europe, bulk bags experienced a surge of use in the 1970s due to the oil crisis. The countries that produced the oil needed a large amount of cement to use for their building programs. They used bulk bags to transport the cement at the amount of 30,000-50,000 metric tons per week from Northern Europe, Spain, and Italy to the Middle East.
The demand for bulk containers in the United States
The demand for bulk bags grew slower in the United States than it did in Europe. However, in 1984 the demand started to grow rather quickly due to the U.S. Department of Transportation agreeing to grant exemptions for bulk bags to be used for the shipment of hazardous materials. This decision required the creation of performance standards for FIBCs that were established and issued by the Chemical Packaging Committee of the Packaging Institute.
Features of FIBCs
FIBCs have several unique features. First, they can be folded flat, which results in easier shipment to the user. They have a low package-to-product ratio, as they only weigh between five and seven pounds. The cost of bulk bags is competitive. Other types of packaging and pallets are not necessary when bulk bags are used. Further, they are simple to store and easy for warehouse workers to handle. When FIBCs are used for shipping via boat, they can be shipped as break bulk.
Size
A standard-sized bulk bag varies based on the application. They are designed to fit two across in a truck or shipping container. However, they can be custom-made to fit the needs of the user. Manufacturers are able to change the height, diameter, and length. The length of the spout and treatment of the fabric of an FIBC can also be customized.
Shipping hazardous materials
When a bulk bag is used for shipping hazardous materials, it must be marked with the UN mark that is associated with the product. The container must also be certified by a third-party lab in all countries except the United States, where that action is a suggested option.
Shipping of non-hazardous materials
Bulk bags containing non-hazardous materials that are to be exported must have a performance test and certification if the country of destination requires that it be done.
Why Should You Use Bulk Bags?
The need to use bulk bags continues to grow. Consider just a few of the leading reasons to use bulk bags.
– They have the lowest package to product ratio of any intermediate bulk container.
– They can be handled, transported and stored without pallets.
– When empty, they are lightweight and can fold flat.
– They can be customized.
– They have a wide range of uses, including chemical, mineral, food and agriculture.
– They are recyclable.
Common Uses of Bulk Bags
Many industries can benefit from using bulk bags. Some common uses of bulk bags today include the shipment of:
– Chemicals
– Fertilizers
– Fiberglass
– Food products
– Grains
– Construction materials
– Pigments
– Plastics
– Seeds
– Peanuts
– Starch
If you are a shipper in need of transporting and storing dry, flow-able goods, consider using bulk bags. They are strong and durable containers that have truly stood the test of time. If you are in need of bulk bags, contact Western Shipping to get the supplies you need for shipping and storing a wide variety of goods.
Thank you for reading our blog. How can we help you? Contact us today.