The agricultural industry moves at a fast pace to keep up with product supply and customer demand. It is continually looking for ways to maximize production without having to sacrifice the quality of goods customers receive. The use of polypropylene in bulk bags and strapping used for agricultural packaging helps keep the industry production process running smoothly.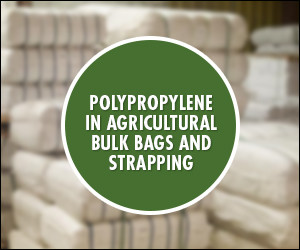 About Polypropylene
Polypropylene is a plastic resin chemical that combines propylene and other materials. The finished product can be molded or reshaped into a new structure for use in various formats including packaging, labeling, textiles and plastic reusable containers.
Polypropylene in the Agricultural Industry
The agricultural industry leans towards polypropylene for its uncompromising quality, making it resistant to water and any additional chemicals that may be present. These elements do not alter the polypropylene's properties, ensuring that it remains durable for even the most active use on a farm.
Basics About Bulk Bags
Bulk bags are in just about every aspect of the agricultural and farming industry. These bags are made from flexible fabrics that make storage and transportation of products and materials a hassle-free process. These bags feature one, two or four loops for use when loading and unloading the bags for transportation. A forklift can easily hook onto these loops and place the bags on a pallet or truck. When the products inside are ready for use, a single opening at the bottom allows for easy dispensing of the contents inside.
Using Bulk Bags in the Agricultural Industry
The agricultural industry utilizes bulk bags for packaging because of the durability and flexibility that the polypropylene material provides. For these bags, polypropylene is present in a woven format that is either coated or uncoated. The average measurement of these bags is 35 to 48 inches in diameter with a height of 35 to 80 inches. Polypropylene provides durability by creating bulk bags that can hold up to 2,000 pounds with ease. This material also allows for the bags to be lightweight, weighing only five to seven pounds when not in use.
Incorporating Polypropylene into Agricultural Bulk Bags
In the agricultural industry, many of the products are on the heavier side. Things such as sand, fertilizer, harvest crops and storage supplies can quickly go into the bulk bags without having to worry that the bag may break under the weight's pressure. The presence of polypropylene removes that concern and allows the focus to remain on the task at hand.
Basics About Strapping
Strapping is a vital component of the agricultural and farming industry. These straps are made of a flat material and can bind large quantities of items together for easier storage and transportation. Strapping can even be utilized for binding items together for shipping across the country. The polypropylene provides a level of security that serves as a binding agent that can withstand a rigorous shipping adventure or lengthy storage time inside a warehouse, without breaking or tearing. Once the item of interest is secured in place, a buckle seal closure forms. At that point, it can only be opened with a utility knife or heavy-duty pair of scissors.
Polypropylene Strapping in Agriculture
The agricultural industry benefits from using polypropylene strapping in virtually all aspects of the production process. These straps can easily transport animal feed from the storage location to the field when the animals' feeding time arrives. Additional pallets of animal feed can be bound together for storage or sale to customers that may be in need of feed for their livestock. Bales of hay can also easily be stowed away in a warehouse and be accessed during feeding times or sold to customers who are in need of hay.
Advantages of Polypropylene Strapping
These straps are created to hold tightly to your item of choice while providing an adequate amount of movement tension. When in place, the straps move with the items they hold together while also expanding and contracting as needed due to changes in temperature. This makes polypropylene the ideal material for shipping or storage in a warehouse during seasonal weather changes. The polypropylene straps also provide the agricultural industry with the ability to engage in promotional marketing without breaking the bank. The durability of the straps and their availability in a variety of widths makes them the perfect promotional campaign format for farmers and others in the agricultural industry. These straps offer the chance to spread a message or promote a product or service when selling products bound together with them.
Safely transporting, storing and shipping goods and harvesting crops are vital parts of the agricultural industry. These items are often cumbersome and bulky in size and shape while also being in high demand by businesses and consumers. Bulk bags can easily accommodate products ranging from harvest crops for consumers to fertilizer for distribution in the fields. Proper strapping binds together a variety of goods for shipping or selling to consumers. Using bulk bags and strapping made from polypropylene is an economical and practical approach to managing the demands of the agricultural industry.
Thank you for reading our blog! How can we help you? Contact us today.